dedicated to preserving
American history

, securing America's future through better

education

, and promoting

patriotism

.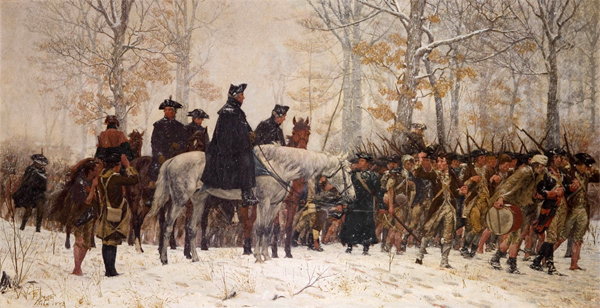 The March to Valley Forge, 1883, by William Trego (Wikimedia)
American History
Santa Rosa Chapter, NSDAR, members participate in an array of projects to help preserve our cultural heritage, including the restoration and maintenance of historical sites. The Santa Rosa Chapter, NSDAR, focuses on Elizabeth and Mary West. These sisters are buried at the Santa Rosa Rural Cemetery and their plots are adopted by the chapter. Elizabeth and Mary were the great-granddaughters of Colonel John Nixon who was the first person to publicly read the Declaration of Independence in Philadelphia on July 5, 1776.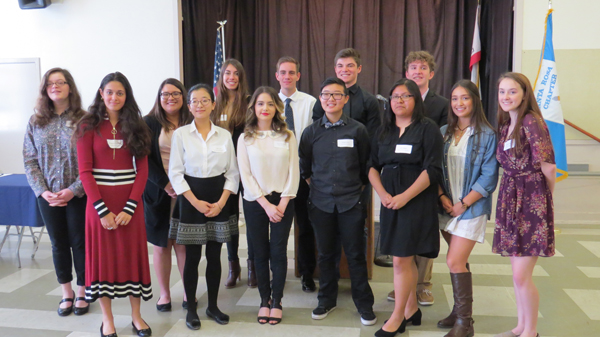 Santa Rosa Chapter DAR Good Citizens, 2019, Chapter Archives
Education
Santa Rosa Chapter, NSDAR members are passionate about educating the youth of America and contributing to schools and student programs in a variety of ways, including supporting DAR schools through chapter and member donations of funds and Box Tops; promoting the annual DAR Good Citizens program by awarding scholarships to outstanding students throughout the county; and collecting new books each December to be donated to pre-schools. Some members tutor, babysit, and donate classroom items. During Constitution Week in September, the chapter promotes reading the U.S. Constitution by all fifth graders in the county.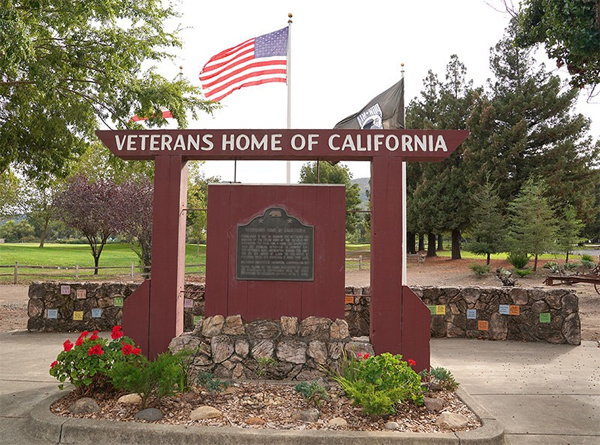 Veterans Home at Yountville, Copyright - Leonard Zhukovsky
Patriotism
Santa Rosa Chapter, NSDAR, membersí love of country is evident in the multitude of patriotic endeavors they pursue, including providing hours of volunteer time annually to veterans in Veterans Administration (VA) hospitals and non-VA facilities; offering support to Americaís service personnel in current conflicts abroad through care packages, phone cards, and other needed items; sponsoring special programs to promote the U.S.Constitution during its official celebration week of September 17-23; presenting patriotic awards such as an Outstanding Naval Sea Cadet through Two Rock Coast Guard Training Center in Petaluma to deserving individuals in our community.
All members are encouraged to participate in at least one of the opportunities offered.
American Heritage

---

Preserving our rich American heritage in the fields of art and sculpture, crafts, fiber arts, literature and drama, and music through contests within each category.



American Indians

---

Entrusted to the continuing education of the history and culture of this community as well as the support of the educational and cultural pursuits of its citizens.

American Indian Groups in Sonoma County: Coast Miwok, Federated Indians of Graton Rancheria, Wappo, Lytton Band of Pomo Indians, Dry Creek Rancheria Band of Pomo Indians, Cloverdale Rancheria of Pomo Indians of California, and Manchester Band of Pomo Indians of the Manchester Rancheria.



Conservation

---

Educating members about climate change and pollution issues and we strive to promote and encourage good stewardship practices for a more sustainable future. The chapter members are engaged with the Santa Rosa Rural Cemetery, 1 Million Member Pollinator Gardens, Laguna de Santa Rosa, Recycle Programs, Earth Day, and Arbor Day activities. Members utilize solar panels in their homes and businesses.



Constitution Week

---

Keeping the legacy alive! September 17 - 23 is Constitution Week. The commitment of the NSDAR is to encourage the study and educate the public about the U.S. Constitution, which was adopted by the U.S. Congress on September 17, 1787. Our chapter focuses on the fifth grades in Sonoma County schools.

DAR Good Citizens

---

A program and scholarship contest intended to encourage and reward the qualities of good citizenship. The program is open to all high school seniors enrolled in public or private schools accredited by the state board of education. We work with up to 18 high schools each year by offering essay contests.

DAR Magazine

---

The American Spirit magazine is an award-winning subscription publication that features well-written and beautifully illustrated stories of interest to everyone who enjoys history, genealogy, patriotism, and education.

The magazine is available to all. Subscribe here.

DAR School

---

We support the DAR schools. The mission is to provide traditional values and educational skills to the students to help them reach their full potential in life.

DAR Service for Veterans

---

Serving America's veterans. The committee provides a tangible way for DAR members to say "thank you" by acknowledging and recognizing veterans' service, sacrifice, and commitment to the preservation of our nation's freedom. We support Yountville Veterans Home and Ft. Miley VA Hospital.

Flag of the United States

---

Provides for these principle objectives: to keep the flag flying and to protect it continuously under all conditions, as well as to educate citizens regarding its correct usage.

More Information



Historic Preservation

---

Seeking to honor the nationís heritage, focus on the future, and celebrate America. Our current program supports the Santa Rosa Rural Cemetery with an emphasis on sisters Elizabeth and Mary West who married brothers Robert and Frances Thompson.

The chapter adopted the cemetery plots for Mary and Elizabeth, planting native habitats, keeping them pruned, watered, and tidy. We participate in monthly clean-up activities throughout the cemetery. For the 2021 Lamplighter series held in September, we will provide a vignette of Mary and Elizabeth's great-grandfather, Colonel John Nixon, the first person to publicly read the Declaration of Independence in July 1776.

Literacy Promotion

---

Each December, we collect new books for pre-school-aged children during our holiday luncheon and donate them to local therapeutic pre-schools and pediatric hospital wards. We have donated up to 75 books each year.



National Defense

---

Advocating a strong military defense and unwavering faithfulness to the ideals of the Founding Fathers as outlined in the U.S. Constitution. We honor an Outstanding Naval Sea Cadet through Two Rock each year.



Public Relations

---

Members work to support Daughters in sharing our story with the public and with each other through our websites, social media, newsletter, and collateral.



Service to America

---

Quantifying the number of hours of meaningful service that DAR members are doing in their local communities across the country and around the world.

Santa Rosa Chapter, NSDAR, members logged 2,195 hours of volunteer activity in 2020.



Women's Issues

---

Designed to be a special place for Daughters by focusing on health, career, and family, we educate and empower ourselves to serve the National Society and our communities.